CLOUD PROACTIVE MONITORING
Proactively monitor your cloud deployment in AWS, Azure or Google Cloud
Cloud Proactive Monitoring
As more services migrate to the cloud, those with responsibility for monitoring network performance and availability face a dilemma.
Previously, with services deployed on prem, servers could be locally monitored with SNMP traps to critical parameters and other indicators.  Operations could then build a dashboard and be confident that the service was being well monitored.
Now with the service cloud based, those with responsibility for the smooth running of network services face some choices :
Trust AWS / Azure / Google Cloud to always deliver
Trust connectivity partners to always deliver OR
Put in place new types of monitoring to verify cloud performance and connectivity.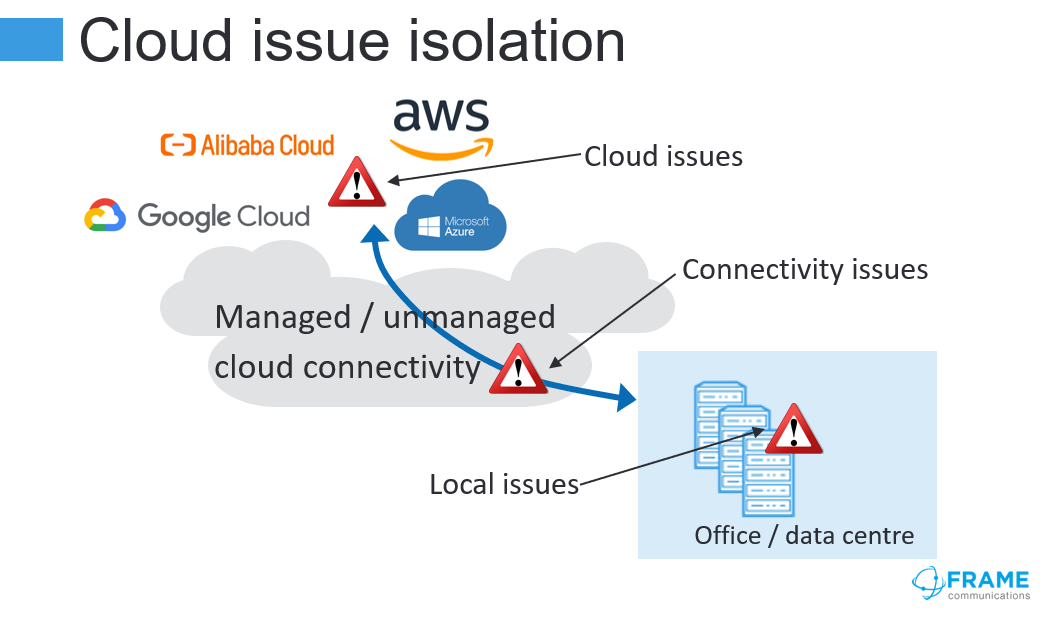 Although the major cloud providers put a lot of effort into reliability and resilience, problems do occur. Indeed of course sometimes, the issue may be caused by the connectivity to the cloud.   If an enterprise depends on the cloud for business critical and time critical functions, having your own independent way to monitor cloud performance is vital.  Lacking the tools to do so, can be reckless and endanger job security for those responsible.
Monitoring from the Cloud
In the same way that on prem solutions incorporate monitoring within them, in order to monitor a cloud service, the monitoring solution needs to be cloud native, i.e.  residing in the same cloud.  The solution needs to be able to create similar traffic profiles to the service under test and be able to send it to the same or similar location that the services would normally be consumed.  In this way a parallel cloud based monitoring solution is created.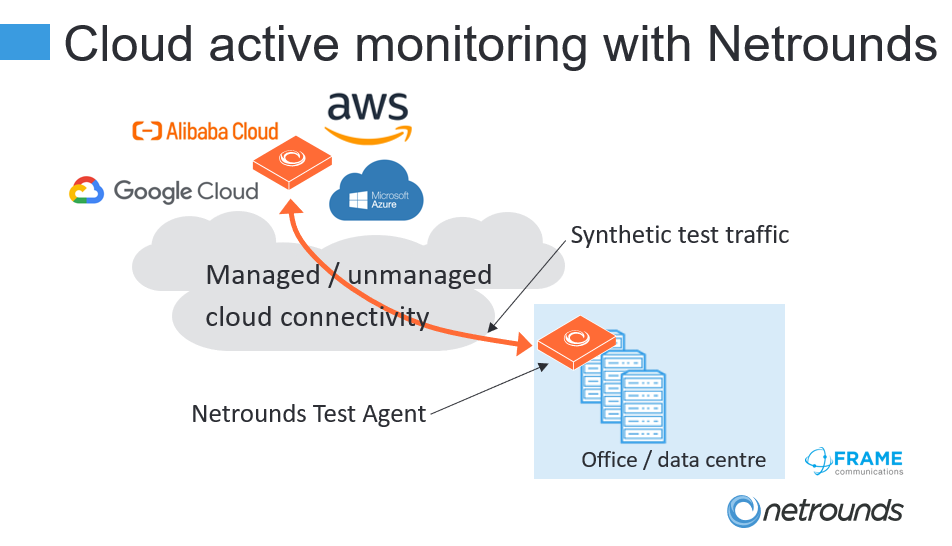 Netrounds
To solve the above issues, Frame recommends Netrounds for cloud active monitoring. Netrounds software Test Agents can be deployed in the cloud and configured to continuously send and receive low levels of traffic to and from each other. Each Test Agent analyses the synthetic test traffic and sends results data to a centralised controller for display.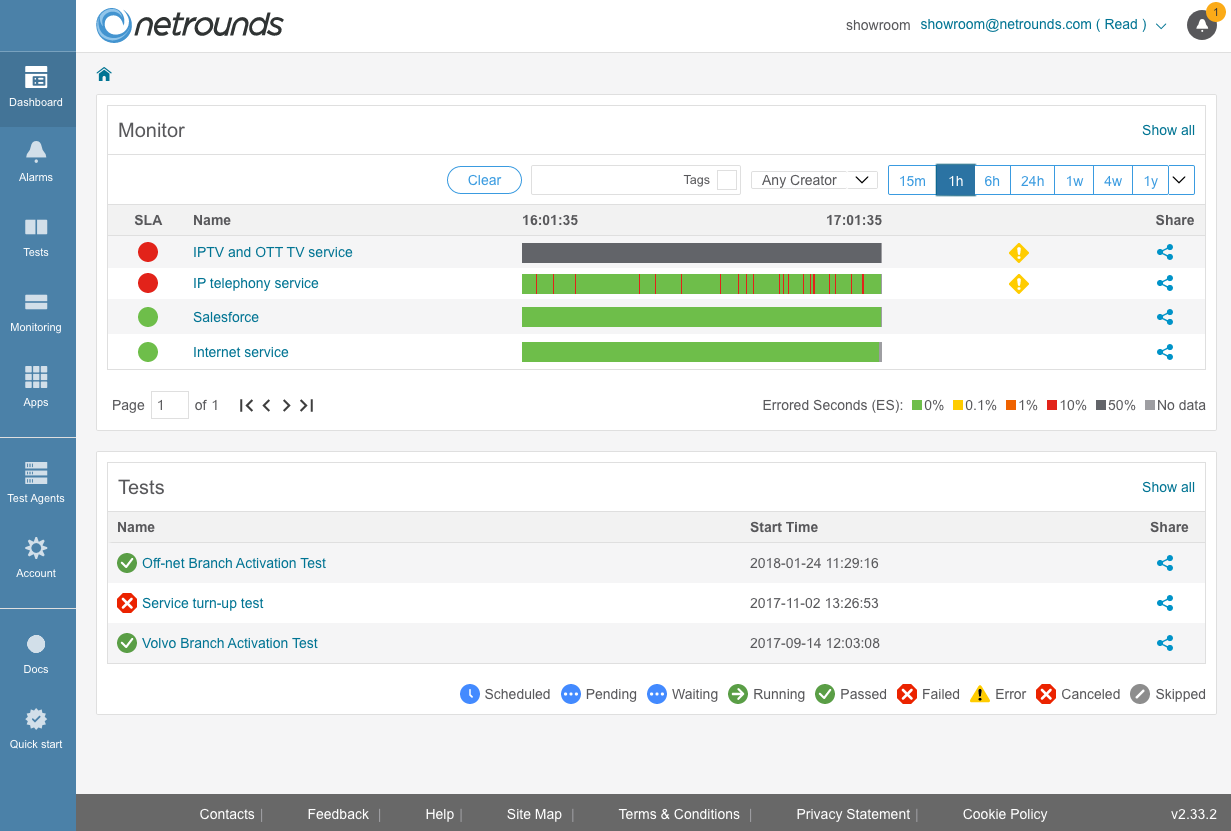 Why we love Netrounds for cloud active monitoring
Cloud native solution, easily deployed to the cloud, "Cloud_init" for zero touch deployment
1 vCPU, 256MB Ram footprint to minimise cloud hosting costs
Continuous monitoring from the cloud to office / data centre
Combine with Service Chain monitoring, for full visibility.
Support for AWS, Azure, Google cloud and Alibaba.
Set your own thresholds for all tests
Real-time dashboard.
Deploy further Test Agents at office locations, to further sectionalise issues.
Please contact Frame to find out more and to arrange your free trial today.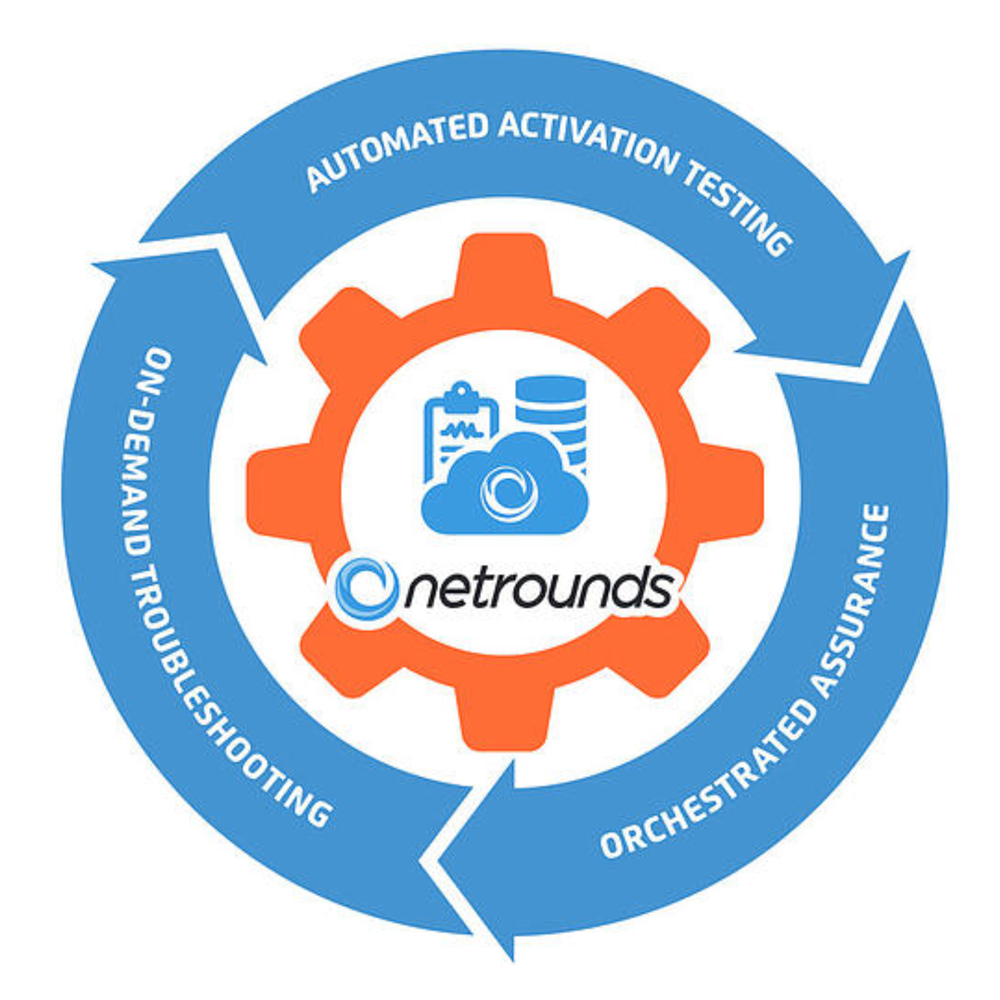 Software based active test and assurance platform for enterprises, communication service providers and cloud providers.