CLOUD SERVICE CHAIN
TROUBLESHOOTING
How to verify your public cloud hosted Service chains in AWS, azure, google or alibaba cloud
Cloud Service Chain Troubleshooting
The moving of services to public clouds such as AWS, Azure and so on is THE big industry trend of the moment.  Increased flexibility, business agility and reduced complexity and all great reasons why this trend is set to continue. Common VNFs include:
vRouters

vIDS

vIPS

vFirewalls

vCPE

vCDN

vSwitch
However, along with the many benefits, comes some new challenges. The resources are no longer in your own network, creating a "black box", running remotely in somebody else's datacentre, and over a network that you do not own or control. No more setting up SNMP traps to monitor your local hardware and basic heartbeats.

Do you now simply hope that your cloud provider and connectivity provider never have a problem? All the major cloud providers are open about their outages, as shown in the screen captures on this page. If a problem does occur, how can you quickly determine where the issue is? Locally, in the managed network or in the cloud? Clearly a new type of test solution is required in order to monitor services deployed to the cloud.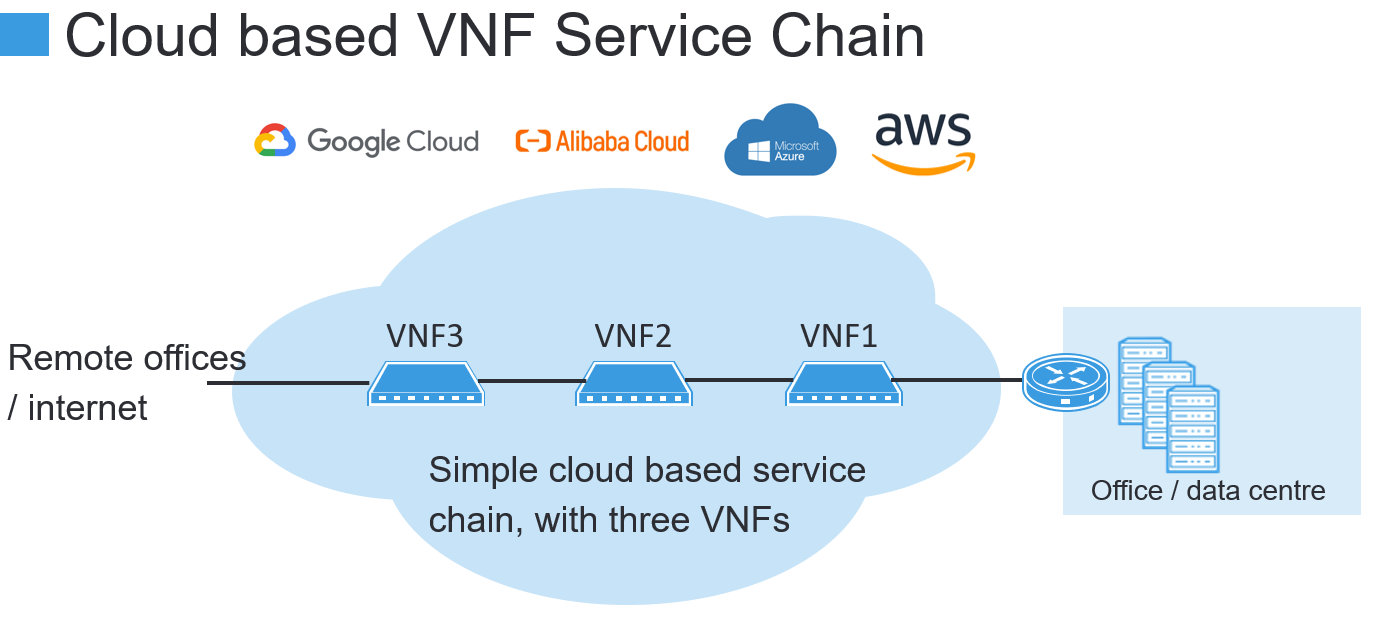 Critical features required in a cloud service chain test solution are:
Cloud native deployment across all the major providers, AWS, MS Azure and Google Cloud
Zero touch provisioning for ease of deployment
Small footprint (to minimize costs to host in the cloud)
Support for many virtual interfaces, to allow connecting into traffic at each step.
Ability to automate testing via open APIs
To solve the above issues, Frame recommends Netrounds for cloud service chain troubleshooting. Netrounds software Test Agents can be deployed in the cloud and configured with many virtual interfaces that can be connected at every interconnect.
The figure below shows the concept. A single Netrounds Test Agent can send active test traffic out to each VNF and also across the whole service chain. In this way, a NetOps Engineer has complete visibility of not only the whole service chain performance, but each link of the chain also.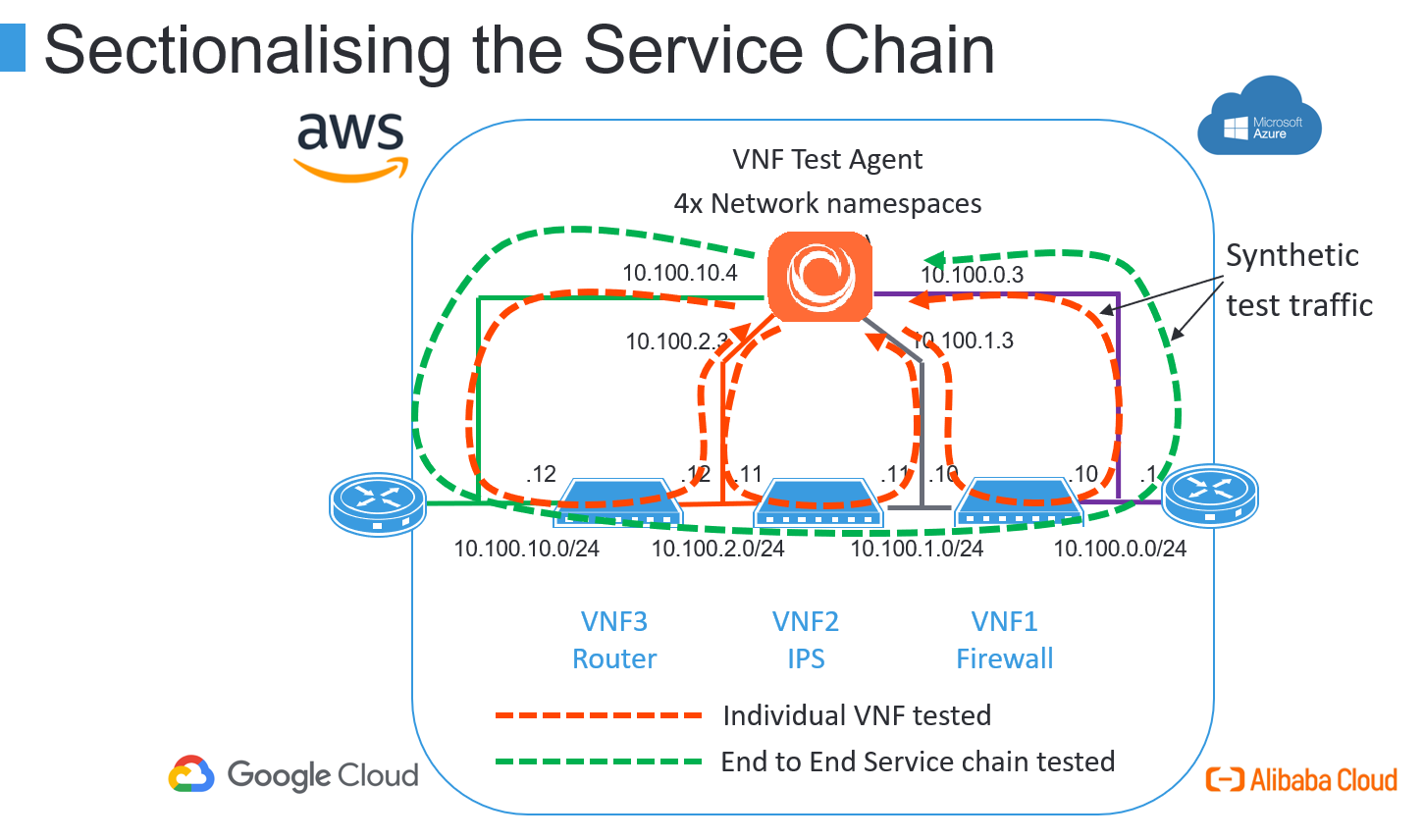 Why we love Netrounds for public cloud benchmarking
Cloud native solution, easily deployed to the cloud, "Cloud_init" for zero touch deployment
1 vCPU, 256MB Ram footprint
Dual stack and NIC namespace supported
Support for AWS, Azure, Google cloud and Alibaba.
Gain visibility of each VNF in a service chain, even in the public or private cloud.
Set your own thresholds for all tests
Real-time dashboard.
Deploy further Test Agents at office locations, to further sectionalise issues.
Please contact Frame to find out more and to arrange your free trial today.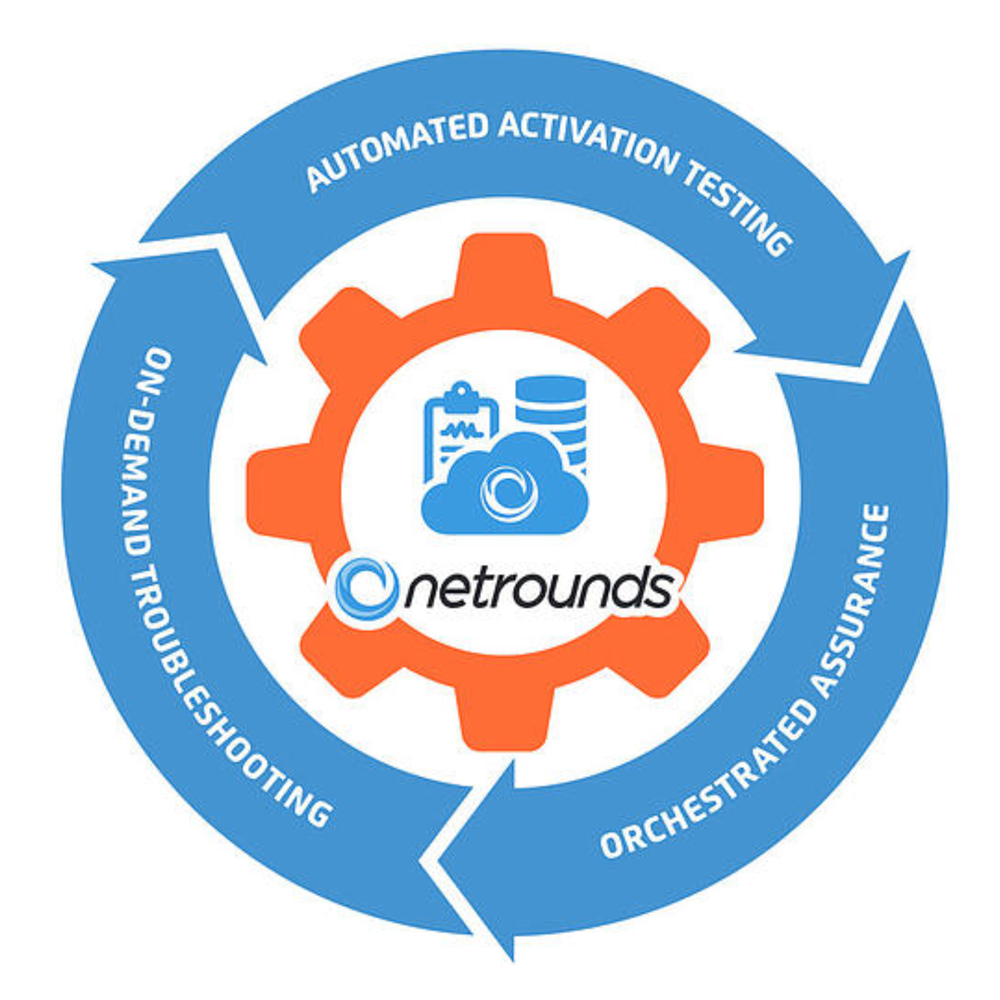 Software based active test and assurance platform for enterprises, communication service providers and cloud providers.