The NetLinkz Virtual Security Network (VSN) platform is an enterprise-grade intelligent networking solution that allows customers of all sizes to deploy an economical SD-WAN service that is fast, reliable, elastic and secure. The VSN is a distributed software platform which runs on off the shelf commonly available hardware, that features rapid deployment at the edge and in the cloud, and offers advanced traffic management features such as Quality of Service (QoS).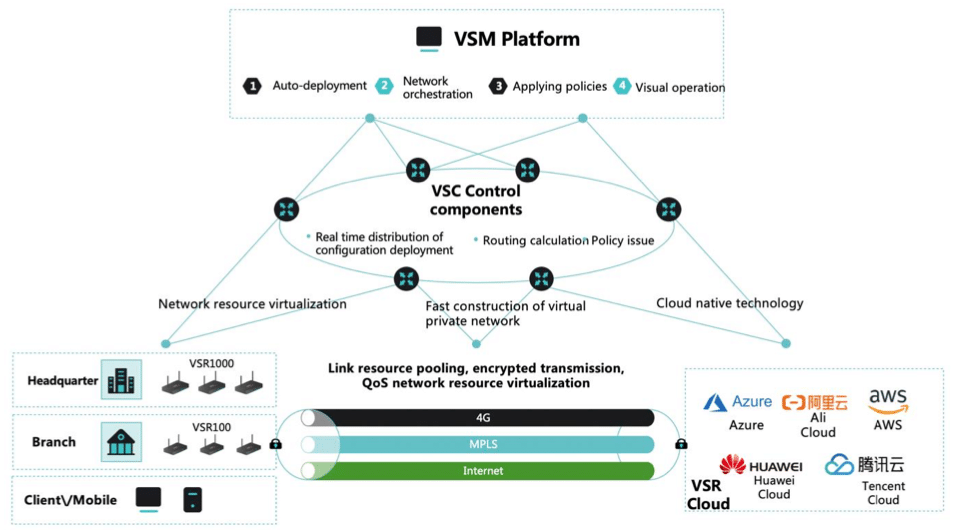 A range of VSR (Virtual Security Router) edge devices are available, including virtual and mobile versions. Customers can deploy a combination of VSR edge devices to suit the traffic profile of their network and its locations.
The VSR1000 component of the VSN gives customers the opportunity to establish a self- owned global backbone network for added network security and performance, and gives them the ability to connect clouds hosted by two or more cloud-service providers to establish ultra- high-performance hybrid clouds.
Access control and monitoring are centralised in the VSM (Virtual Security Manager), giving administrators enterprise-wide network management capabilities and options for extension via comprehensive APIs.