Looking for a great value replacement for your Savvius Insight unit?
As most users will know, Savvius Insight is now LiveAction's LiveWire. If you are currently considering what to do next, you might like to consider a low cost, high performance alternative.
The Allegro Packets Network Multimeter performs all1 the same functions as Savvius Insight. Key features being:
1. Remote Office analysis and troubleshooting, with real time and historical data
2. Packet captures and analysis
3. Ideal for small and medium office deployments
4. Skype / VoIP troubleshooting
5. MS Teams and other cloud service troubleshooting.
Connected in bridge mode, or on a Tap, the Allegro 500 is a great drop in replacement for a Savvius Insight box, with no end of life in sight2.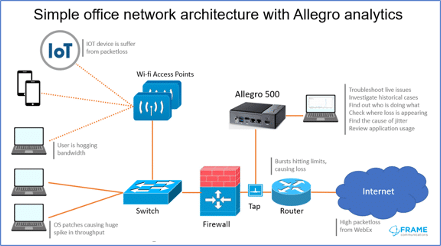 Webshark realtime packet analysis
Grab your free, no obligation trial unit today and find out yourself, just how easy it is to use.
For more information on using Allegro Packets, please see Single Site Office Analytics
1 all the main functions, actual feature set varies
2 at the time of writing