Assuring PROFINET networks
PROFINET has become the leading Industrial Ethernet standard for factory automation and process control, with tens of millions of PROFINET nodes in use globally. PROFINET supports a wide range of industrial applications, ranging from simple control tasks to highly demanding motion control applications. TCP/IP traffic can also co-exist on the same network, enabling PROFINET and TCP/IP to be used across the same network infrastructure in parallel.
This wide variety of usages gives rise to a unique test and monitoring challenge.
For many industrial automation processes, network issues such as packet loss, latency and jitter can be critical. Some of these parameters can indicate network degradation and possible future failure. In contrast, others may reveal network congestion, which can have an unpredictable impact on the devices connected to the network.
It is therefore critical to any business that is using PROFINET that they can monitor the availability and performance of the network and quickly and easily identify the root cause of any issues.
Adding PROFINET network analytics with Allegro Packets
Deploying the Allegro Packets Network Multimeter to a PROFINET network delivers two key benefits:
Real-time visibility of PROFINET network and device-centric parameters, such as frame loss, network latency, and jitter / frame delay variation
Historical data storage to enable trend analysis and troubleshooting
PROFINET network with Allegro Packets tools deployed
The Allegro Packets Network Multimeter will provide two dedicated views for examining PROFINET traffic; firstly, a network statistics overview based on the Profinet Master and all connected Profinet devices. For example, the view below shows a steady 250kbps data rate, which quickly drops to zero, coinciding with an Alarm and a spike in jitter.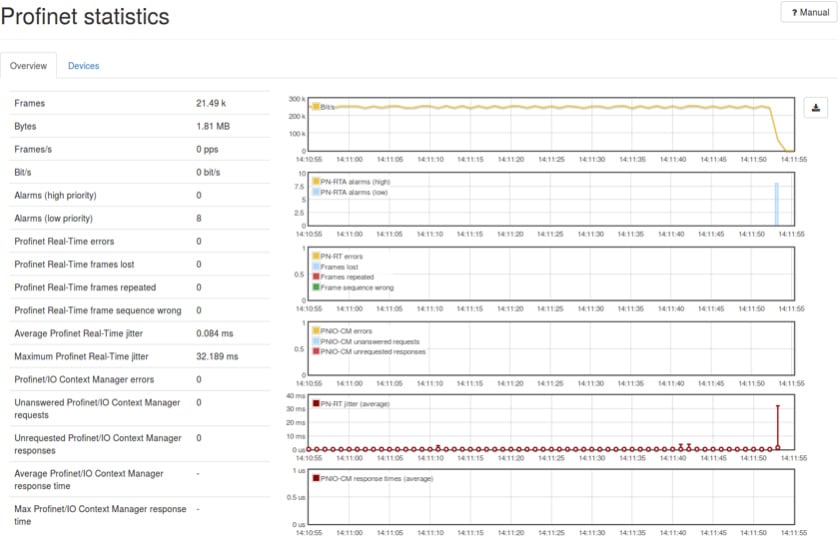 The statistics overview displays data from all connected devices
The other PROFINET view is based on devices, enabling a network engineer to instantly check for expected performance, or use during a troubleshooting session. The engineer can identify devices by their Station Name, IP or MAC address. A filter option allows quick searching for specific devices.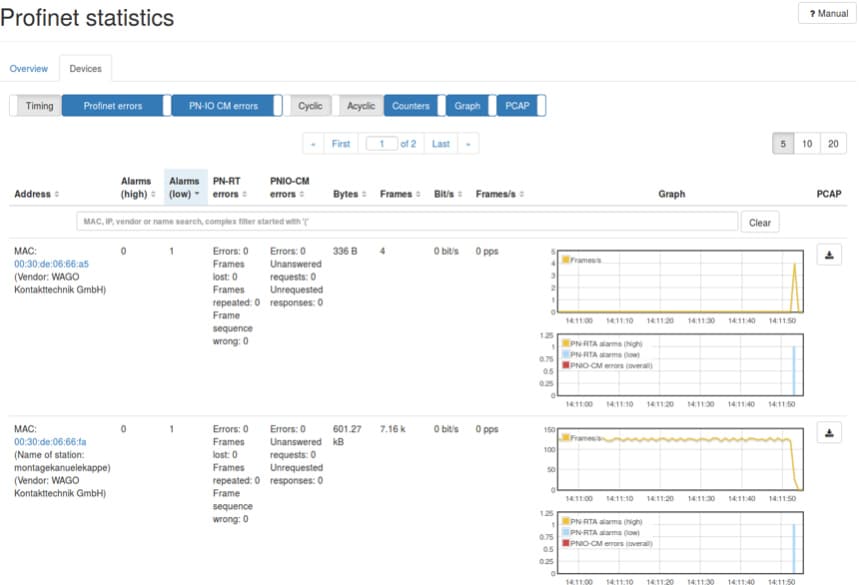 The Network Multimeter easily identifies devices on the network.
Even further drill-down is possible by clicking on a device name. This brings up a single device view displaying traffic statistics and device alarm conditions. Real-time network statistics for the device, such as latency and jitter, are captured and displayed. If this is not enough detail, network traffic specific to the device can be captured into a PCAP file for offline analysis. The detail provided is invaluable in a troubleshooting environment.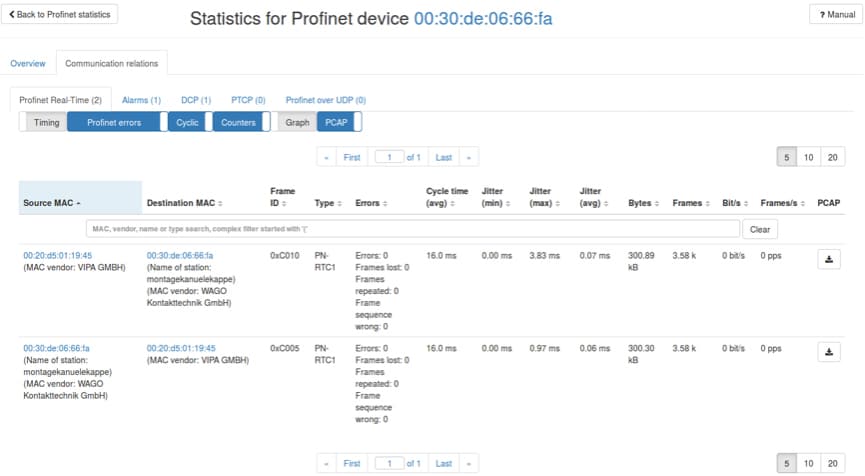 Traffic statistics are available per device
SUMMARY
The Allegro Packets network multimeter enables ongoing monitoring of PROFINET network conditions and provides the ability to quickly diagnose the root cause of issues impacting the connected industrial and automation devices.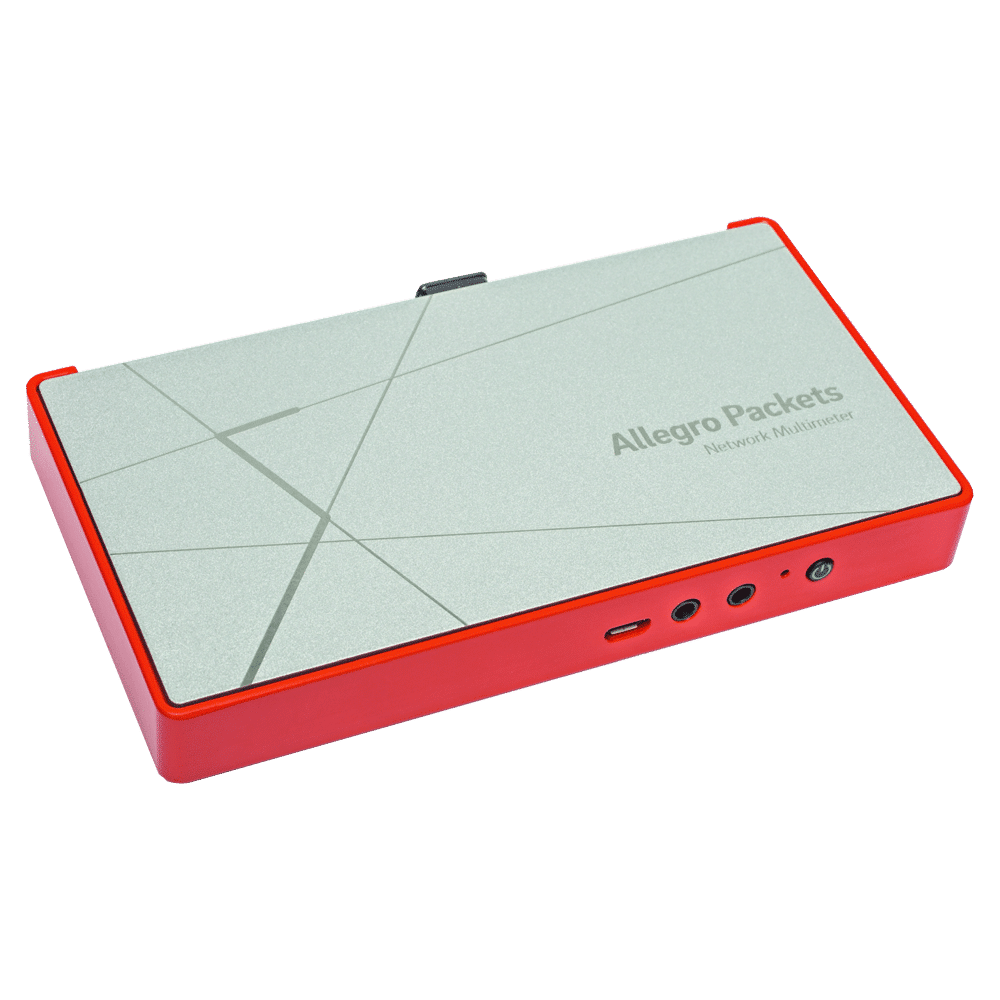 Acquire highly granular real-time and historical network traffic for fast analysis and issue identification. Identify network problems with just a few clicks, identify performance bottlenecks, and detect packet losses.
Key benefits
Resolve Profinet related issues faster Reduce downtime of Profinet connected automation tools. Detailed ethernet analytics to allow cross-correlation of issues between networks Real time and historical data are available Spot degradation trends and prepare remedial actions ahead of time Deployed on a Network TAP, no impact to the Profinet network. Simply to deploy, easy to use.