Remote branch office troubleshooting
Fault finding a large, distributed network of remote offices / locations can mean costly truck rolls and be extremely time consuming.
Many businesses and other enterprises operate from a Headquarters to multiple branch offices / retail / industrial locations. Sometimes operations span across national or international boundaries.  Reliable high quality data interconnect to all remote locations is often critical, failures could interrupt work, production or prevent sales.
LEGACY MONITORING IS NOT ENOUGH
Legacy monitoring typically utilises SNMP or syslog based technology, sometimes it could even extend to examining logfiles. This type of monitoring is passive, it's reactive and relies entirely on the data sent to SNMP or available in the system logs. This management level data is typically polled, so if the data indicates a problem at the service level this will only be reported when the data is next polled, preventing real-time reporting of, and reaction to service issues.
Can legacy monitoring tell you when a remote branch location is experiencing poor browsing or VoIP quality before it is affecting service users? Its highly unlikely.
Identifying the root cause of service issues is complex, there are multiple types of failures and multiple possible failure locations. In complex networks, configuration errors can often creep in. Legacy monitoring will not see anything wrong. Only by examining the service, will an error be visible.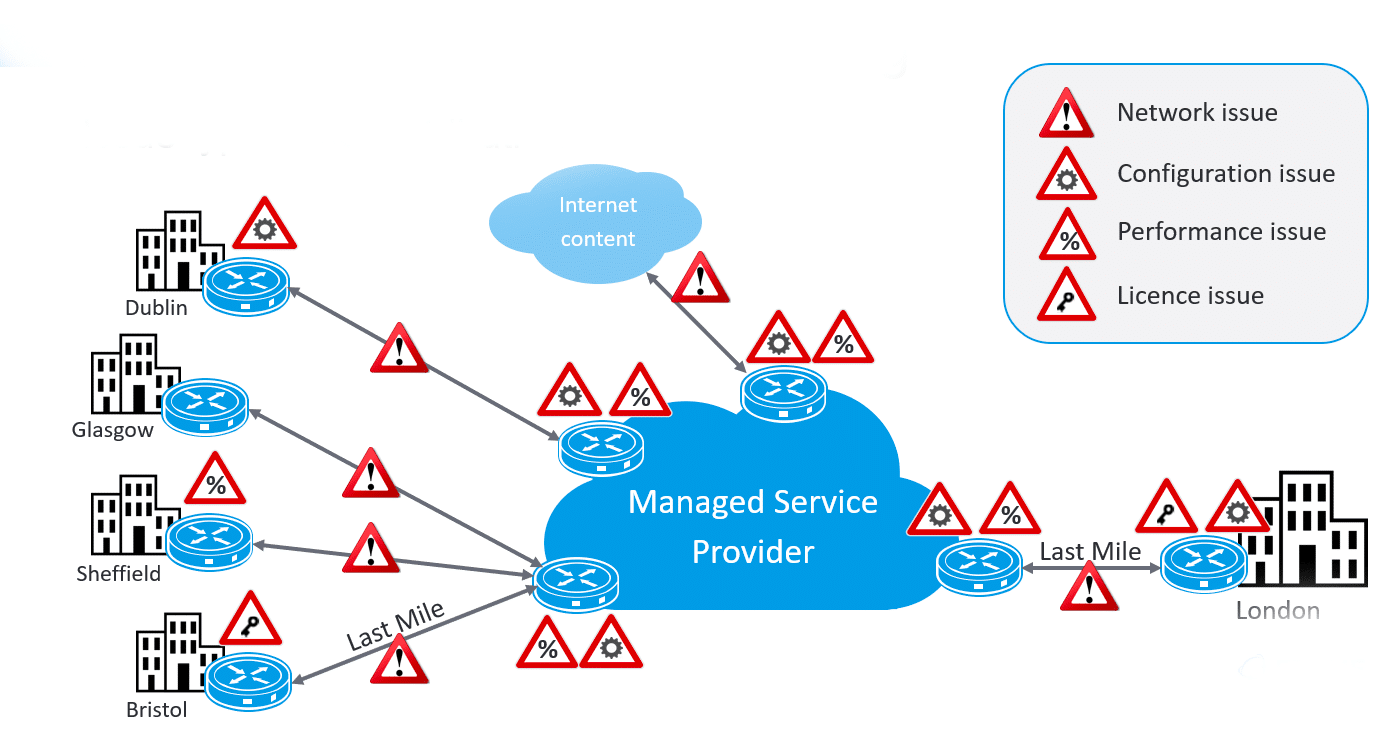 Service affecting issues can occur within the business network or within external infrastructure .
Service monitoring
Software based, centralised monitoring, is the key to minimising truck rolls. In order to cover as many different types of faults and locations, it is necessary to focus on the underlying service being delivered and instead of monitoring the physical hardware.  For service based monitoring, there are essentially two choices:
Passive monitoring– inspecting user traffic
Active monitoring– generating traffic for monitoring
Both will reveal how the service being delivered is performing. Critically, active monitoring doesn't depend on user traffic and can thus find issues without end-user traffic being available for every service. This is critical to identifying and resolving issues before they become service affecting and therefore affecting the end user. Service monitoring enables the continuity of a business, ensuring they have the necessary services available to deliver to their customers. Key to this are:
Constantly, actively monitoring key services
Resolving issues before customers are even aware of problems
Working remotely and avoid unnecessary truck rolls
Passively monitoring management KPIs
Using automation wherever possible
Netrounds Active Assurance
Netrounds is the ideal solution for the remote, proactive troubleshooting of branch locations. Actively testing services over the network in order to ensure service availability for end users and prevent businesses affecting service degradation. Netrounds' light weight software Test Agents are deployed around a network and continuously test connectivity and services.  Integral to Netrounds if the Control Centre, which acts as a single integration point for the Test Agent for control and reporting, in addition to providing the interface for orchestration and integration with other solutions such as an OSS.
Through the ongoing testing performed by the Test Agents any issue seen in any path is instantly highlighted, enabling the fastest possible rectification actions to be taken. If an orchestrator is available, it can take automated remedial actions in response to pre-defined issue scenarios and then request retest, to confirm corrected performance.  Over time, automated scenario handling can build up, meaning human intervention is minimised.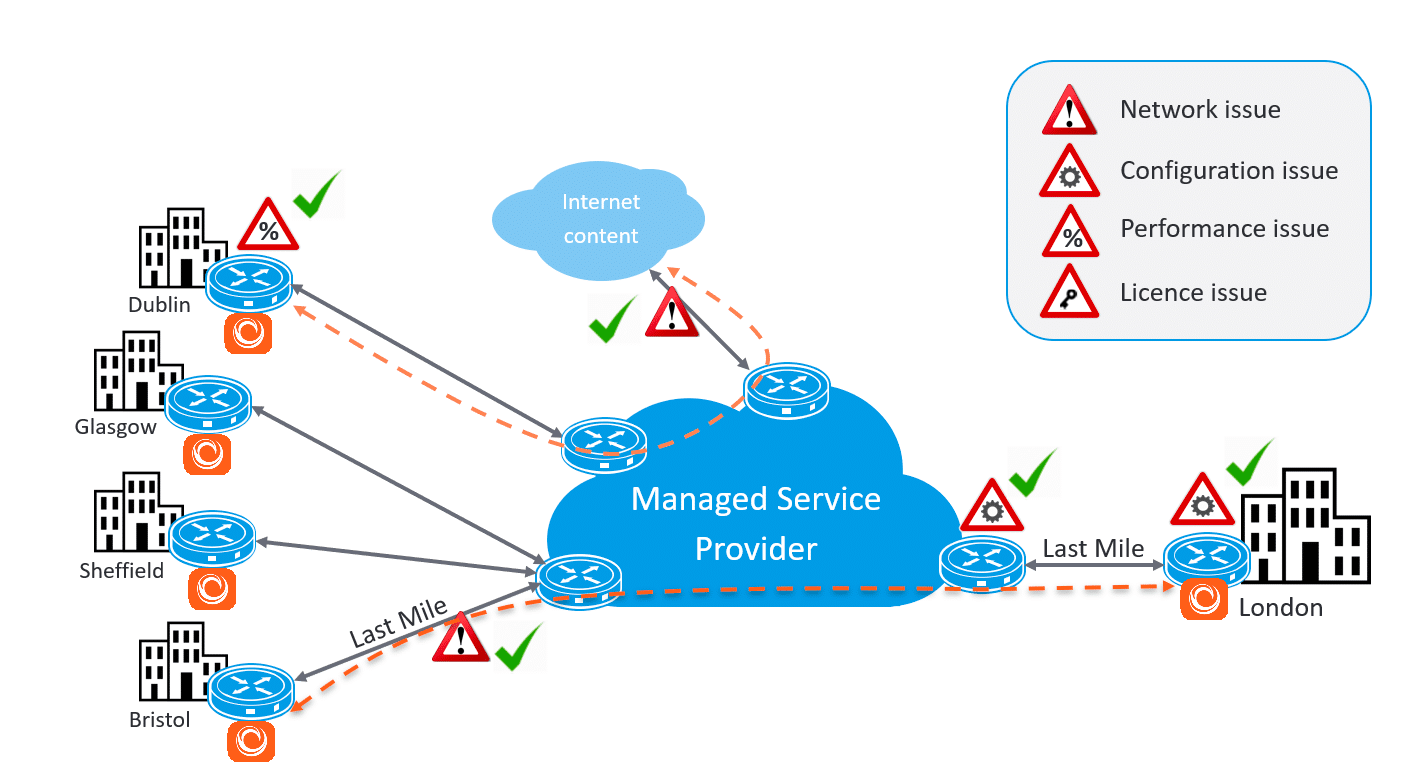 SUMMARY
Netrounds software based, centralised monitoring, is the key to ensuring availability of essential business services. The combination of easily deployed Test Agents and the Control Center enables ongoing service assurance through active testing and automated service degradation and response preventing service issues affecting business performance.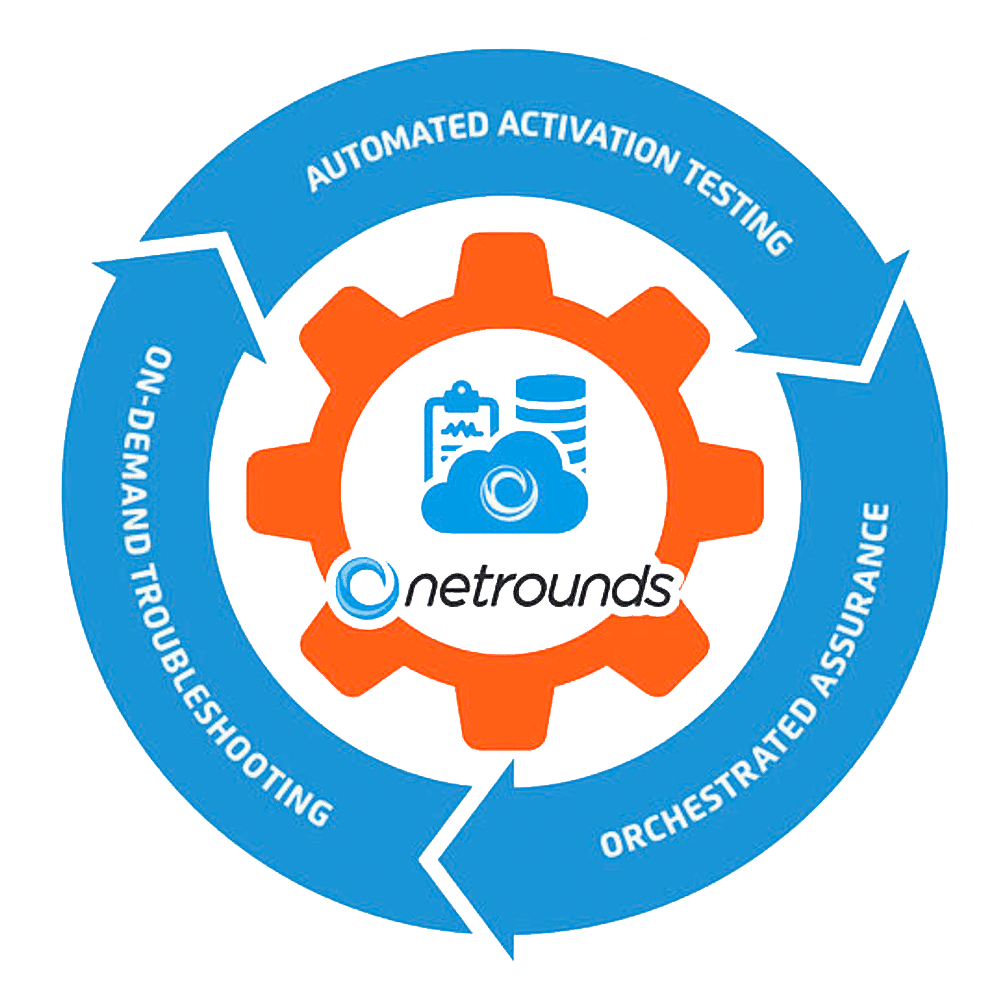 Software based active test and assurance platform for enterprises, communication service providers and cloud providers.
Key benefits
Easily benchmark cloud performance.
Ongoing monitoring through scheduled link testing.
Continuous service monitoring across locations supporting key services including HTTP, DNS, SIP and video.
Monitor key parameters such as latency, packet-loss and jitter
Define and measure KPIs for realtime reporting.
Orchestration and automation via open APIs.
Simple deployment.
Easy to use.