Multi-site Enterprise network analytics
Large enterprises operate complex and security conscious networks across multiple sites and often across national borders.  With this network complexity comes testing and monitoring complexity.  We need to start with the basic network analytics requirements, which are principally solutions that analyse and recordscritical parameters such as :
Applications being used like Facebook, WebEx, video, VoIP
End users overall usage (to find the top users / abusers)
Packetloss
Jitter
Latency
Examine traffic from particular origins and countries
Additionally the following issues need to be considered for larger, more complex multi-site networks:
Inter-site connectivity
Much higher throughputs, 10G interfaces
Cloud to site performance
Datacentre connectivity
Network visibility from a centralised Operations location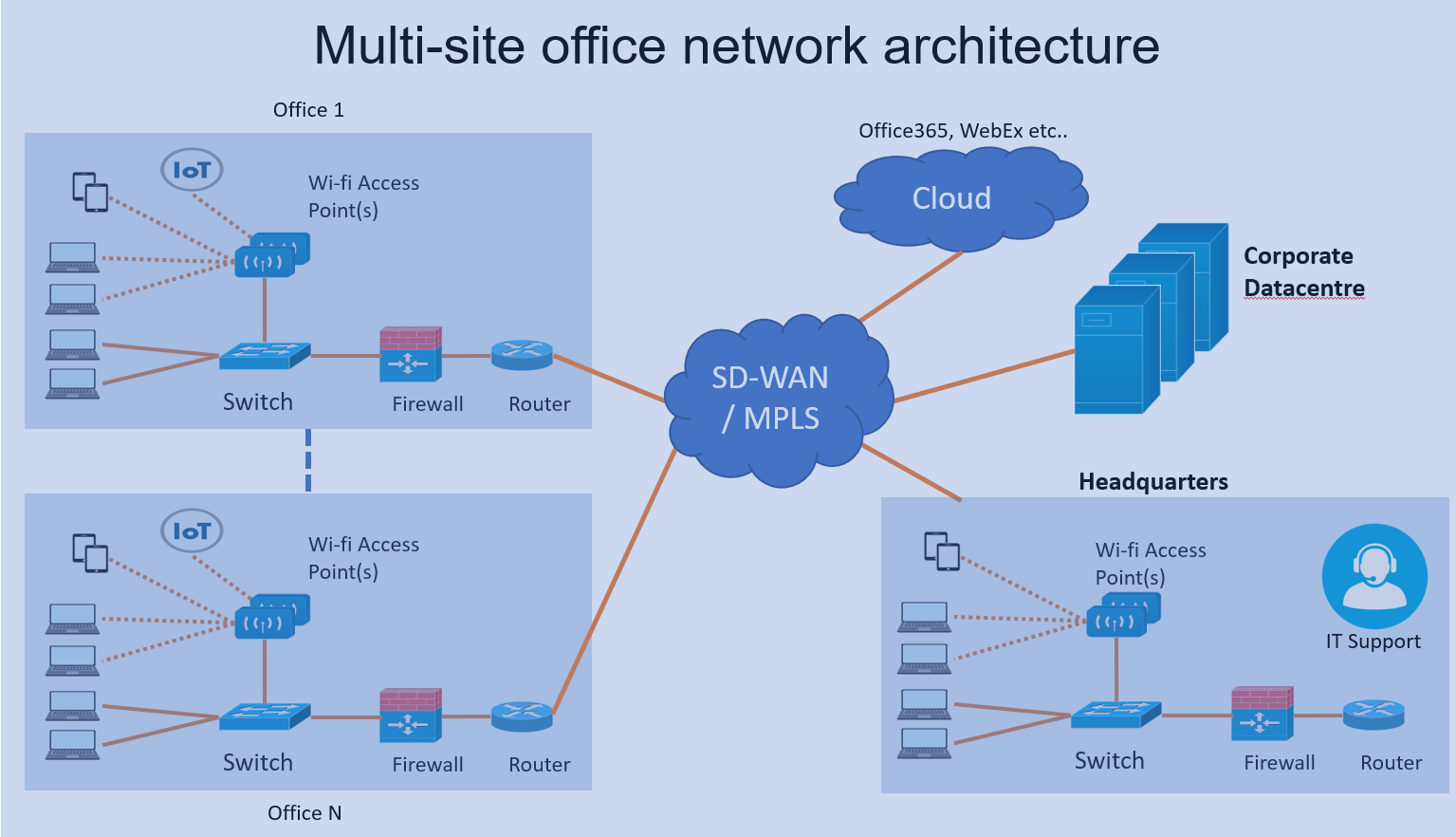 For a complete troubleshooting solution, two further aspects are vital:
Being able to see real time traffic analysis for ongoing incidents
Quickly recalling specific historical data to analyse reported issues
Aside from troubleshooting, network visibility gives those responsible for managing the network, the planning tools needed to get ahead of issues, especially relating to capacity. By examining peaks and any associated packetloss, new capacity can be planned, purchased and deployed, before end users notice bottlenecks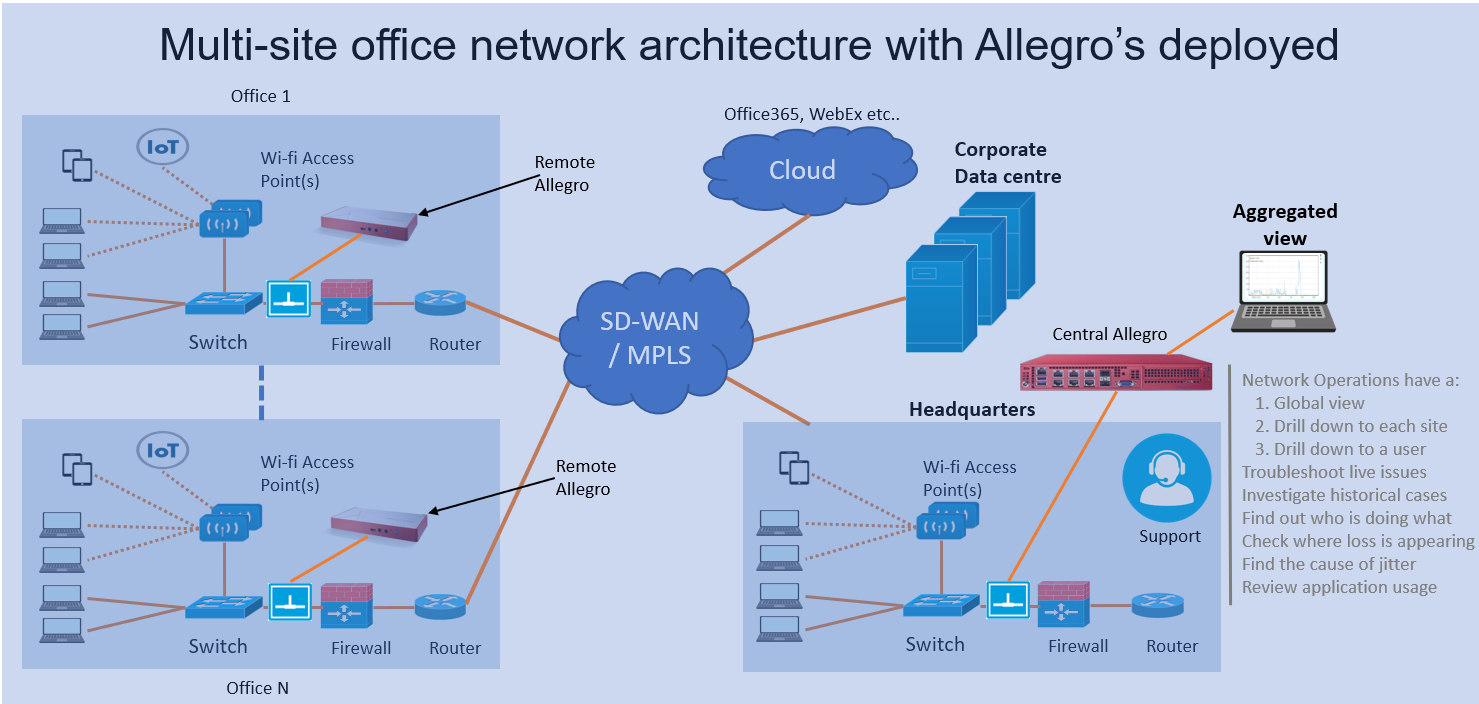 The Allegro 1000 and 3000 ranges are especially suited to large enterprises requiring 10G connectivity. These can of course be used in conjunction with the smaller 200 and 500 units that cover small offices.
Network Operations can remotely connect to the Allegro boxes and perform real time and historical fault finding at remote locations, as if they were there.
Compare WebEx performance between offices
Track down issues impacting the whole network down to individuals in remote offices
Setup remote captures
Avoid site visits
Allegro 3000 Network Multimeter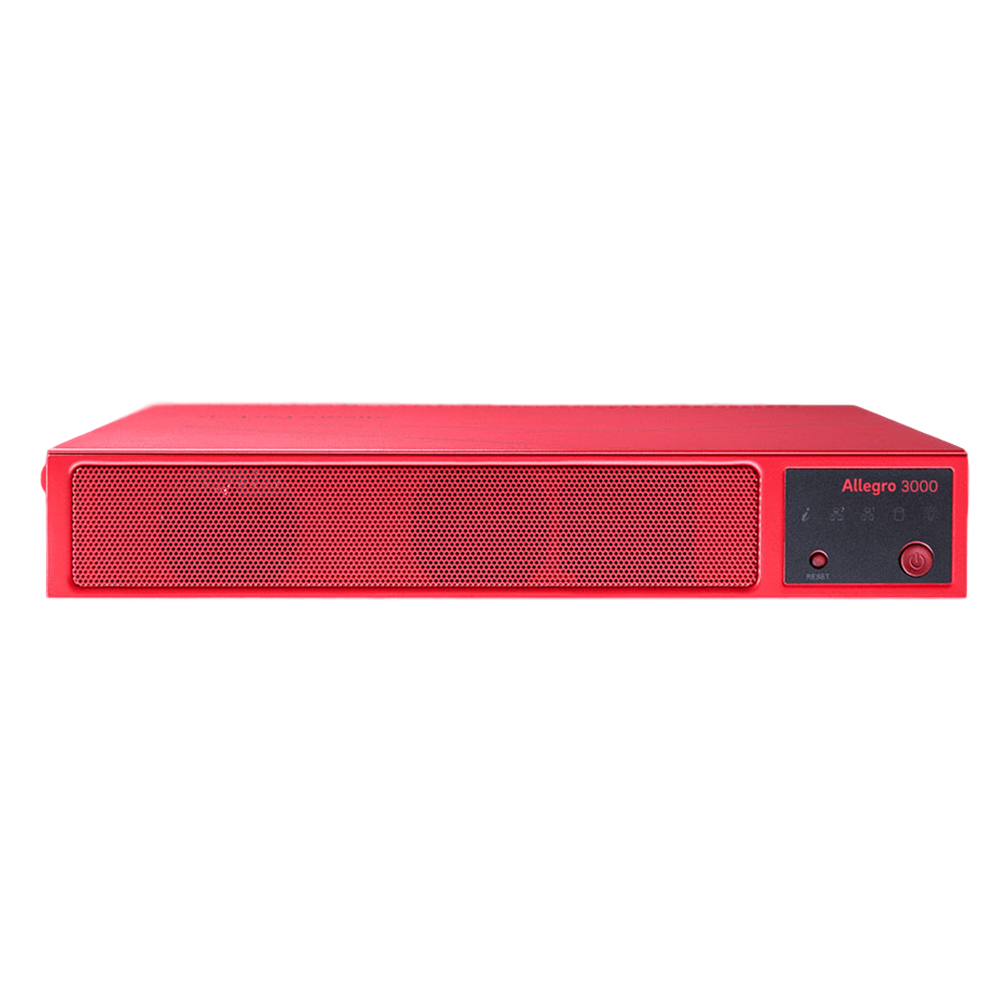 With 10G and GE interfaces, capable of 40Gbps throughput, the 3000 series can handle most Enterprise traffic requirements.
Key benefits
Remote network monitoring and analysis Stores analytic data in memory for near instant recall – fast to find the issue. Burst analysis down to millisecond granularity Answer questions like "Why is WebEx not working well now?" or "Why was Zoom poor last Tuesday at 3pm in the Manchester office?" Connect inline or on a network tap / mirror port. Examine DNS performance. Measures key network metrics including packet-loss, response time Configurable alarm thresholds for KPIs relevant to your business Detailed report generation GDOR compliant monitoring