As the Coronavirus news continues to get worse by the day, it's safe to say that attitudes towards China are hardening. It is now increasingly obvious that China supressed and covered up the outbreak in the early days and is likely still not telling the truth about the total fatalities it suffered.
UK government insiders talk of a "reckoning" for China and Huawei is near the top of the list. There was of course much controversy when Boris Johnson allowed Huawei to work on parts of the UK's 5G infrastructure, now this decision looks likely to be reviewed. The US and other allies will be pushing harder than ever for a total UK ban.
Huawei Re-inventing the Internet
In the middle of the current situation, comes news that China and Huawei are pushing for "NEW IP" as a standard at the ITU (ft.com subscription required) to replace the current TCP/IP. Titled "Network 2030 and the Future of IP", this will support new technologies such as:
Holographic teleport
Tele-driving, cloud driving and integrated driving
Space networks
Industrial IoT
Tactile Internet
Digital Twin and Holographic Twin
Whether or not we will all be virtually teleporting ourselves as tactile holograms in a future Brave New World, rather than using Zoom, is another question. Undoubtedly TCP/IP has limitations and is far from optimal in all situations today. The bandwidth required for example, rises to currently unimaginable levels :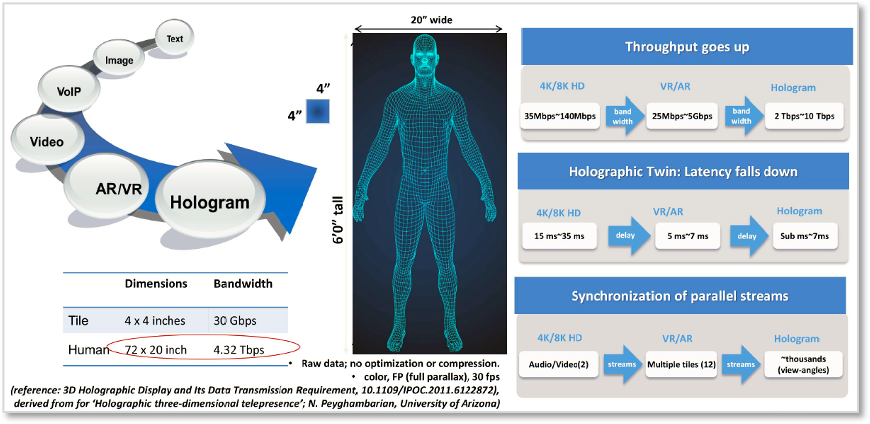 Undoubtedly TCP/IP has limitations and is far from optimal in all situations today.
The key problems New IP is apparently solving are:
New connection types require more flexible management
The need for a larger, "ubiquitous" protocol, to prevent network fragmentation
Improved security and data sharing capability to support Big Data and AI.
Already battle lines are being drawn up against Huawei and China. The changes to data collection in particular are concerning individuals and Western Governments. Does "Improved security", really mean improved for the State, or for an individual? Many people are uncomfortable with existing levels of data harvesting and don't see the need to enhance and deepen this area still further.
The fundamental question being asked, ever more loudly is "Can we trust Huawei?". Increasingly the answer appears to be "No". As the US President Ronald Regan famously said during the Cold War with the USSR, "Trust, but Verify".
Trust is the Key
One thing is sure, independent methods of Test and Monitoring are going to be more and more vital if trust in networks and the services offered by them is to be maintained.
Frame Communications only works with trusted technology partners, that provide an independent check on the performance of your network from the cloud to the user and all points between.
Stay safe everyone. Contact Frame Communications today to find out more about our wide range of trusted Test and Monitoring solutions.