10 Ways The Network Multimeter Helps IT Managers
The life of the IT manager is hard. Maintaining an ever-increasing number of business critical applications, migrating from on-premises service to public and private clouds, keeping key infrastructure online and much more.
Here are 10 things the Allegro Packets Network Multimeter does to help IT managers cope with fast-changing IT requirements.
1 - Troubleshoot VOIP issues
As legacy phone services are phased out and replaced by feature-rich VOIP services it becomes critical to the business that VOIP traffic runs without problems over the network. The Network Multimeter identifies VOIP issues with VOIP traffic and can be used to identify the root cause.
2 - identify intermittent issues
Utilising the Network Multimeter as a long-term monitoring tool enables the easy troubleshooting of intermittent issues as they are reported by users. Using the web GUI to filter down to specific application protocols, and then to the IP address of the affected users it is easy to identify issues within minutes.
3 - Retrospective testing
The Allegro Packets Network Multimeter range use in-memory databases and a packet ring buffer to enable fast-access to all recorded packets.
In the case where a network problem is reported that has been active for some time the packet-ring buffer is used to retrospectively analyse the source of the problem. This flexibility makes it easy to fix issues that have been troublsing users for some length of time.
4 - Network packet capture
Some times you just need to break out other tools such as Wireshark to ehlp you test network services. The Network Multimeter can create PCAP files  that pre-filtered, allowing them to be immediately used within Wireshark. PCAP files can be creted on either internal or external sorage, and the pre-filtering reduces the size of the captured data, enabling long term capture.
5 - Server reporting
Reporting on server usage is easy with the Allegro Network Mutimeter. Built-in SMB server reporting functionality captures the amount of SMB traffic traversing the network and the traffic load at certain tiems of day.
6 - identify overloaded paths
If specific offices, building floors or comms rooms are experiencing network issues it may be that a network segment connecting that location is experiencing excessive network load, which could potentially be caused by misconfigured routing. The network multimeter can analyse traffic on a specific path to identify network load issues.
7 - Proactive troubleshooting
Locating the network mutimeter in the network long-term allows network conditions to be analysed automatically. These issues can be automatically reported through emails sent to network managers, allowing them to be rectified before they start to affect network users.
8 - Network application testing
With it's support for full 7 layer analysis the Network Multimeter is able to identify issues with specific network applicatins and services. For example, if users are experiencing issues with a specific application such as Webex or Skype it is able to analyse traffic specific to those applications to resolve issues quickly.
9 - Identify flood sources
Malfunctioning or poorly configured network devices can often flood the network with traffic, reducing the availability of other network devices and services. The Network Multimeter identifies network volumes and top traffic sources on the network, making it easy to identify the device causing the issue.
10 - Business-wide testing
The Allegro Packets Network Multimeter family contains a number of different form factor devices, from a handheld device suitable for remote office or home office troubleshooting, to rack mouted high capacity devices suitable for use in the data centre. This range enables the Network Multimeter to be used to test across the entire network.
Allegro Packets Network Multimeter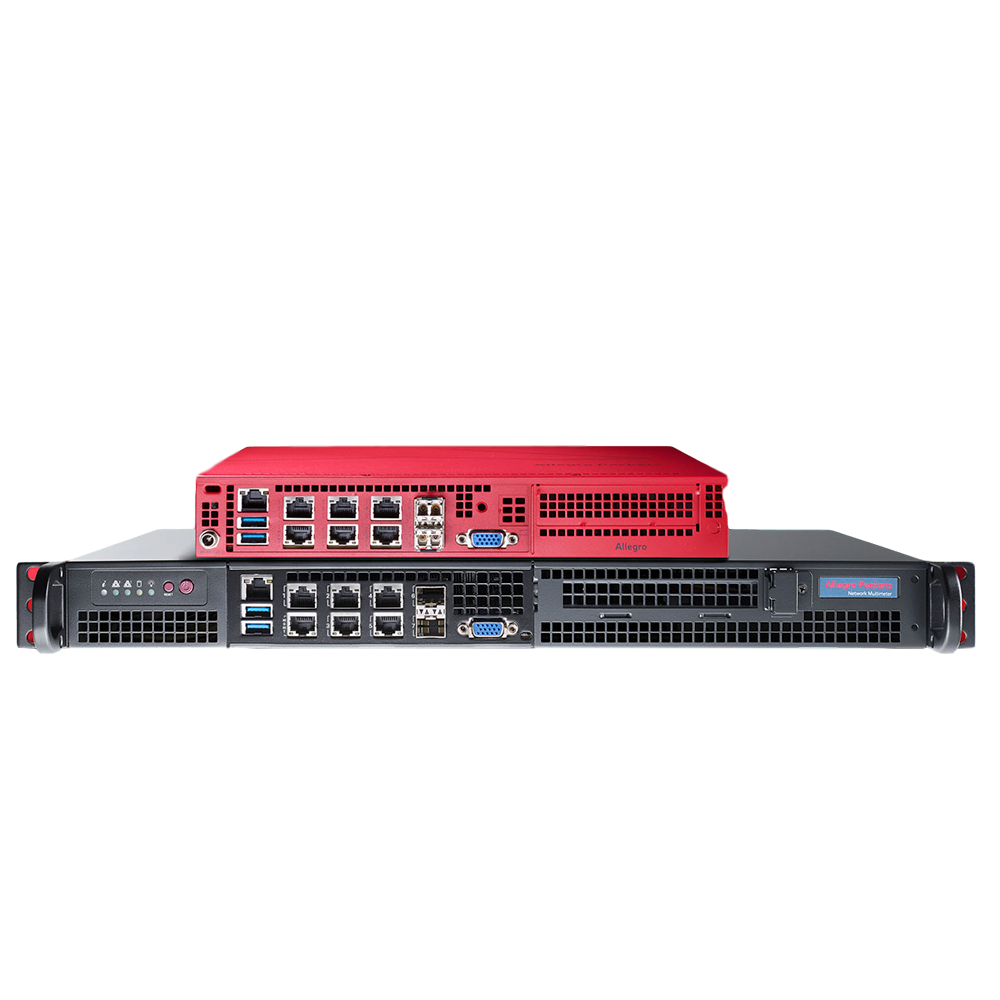 Multi-function network appliance perfect for solving network management, monitoring and security challenges of SMBs, branch offices, and remote network deployments.