Proactive Cloud based Conference and IVR Monitoring
How do I check my conference call and IVR system quality?
Conference call quality is of growing importance. Most users rely on third party solutions, such as WebEx, Zoom, Bluejeans, MS Teams or other providers. Outsourcing to cloud-based services has obvious simplification benefits, but complicates test and monitoring.
Whether using a direct dial in number or an app to connect, the audio quality can vary regionally or over time. Keeping track of the quality provided by third party providers is not easy. Often, it's the users of the service that will be reporting problems. Of course, by then it's too late.
Tenedis combined with their virtual probes act as real users, making calls, listening and calculating audio quality. The probes are even able to send pre-determined DTMF sequences, to navigate menu options, or play audio for voice recognition when using IVR systems.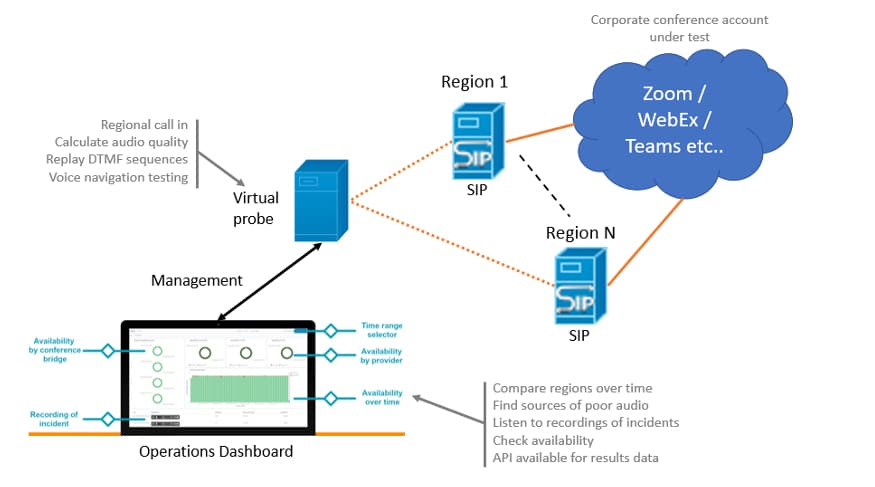 By continuously testing and monitoring, you can find issues, such as poor audio impacting DTMF recognition or voice navigation ahead of users.
A conference or IVR monitoring solution can be up and running in days, helping you find more issues and stay ahead of your users.
How long does it take to setup a conference or IVR monitoring solution?
Obviously, this will depend greatly on the complexity of the menu system being navigated and the requirements to check responses along the way. Basic deployments have been completed in a week, more complex systems can take two or three times as long. A simple setup for a conference system only can be completed in a few days.
What is the ROI on conference and IVR monitoring?
ROI will be unique to each installation and depends on many factors, the main ones being:
How poor you find your current solution is and therefore how great the improvement will be. Tenedis almost always find surprising results, even during an initial basic Proof of Concept.
The value to your business of a failed user journey. For high volume IVR systems, a poor user experience can quickly turn into users cancelling business.
Your ability to make improvements. This could be under your control, but often it will be the responsibility of third-party providers. Tenedis will give you the hard facts you need to confront poorly performing suppliers and demand improvements, or make the decision to switch supplier.
How can I see if my conference or IVR System is performing well?
Once the software robots are configured and running, they will automatically feed back results data to a centralised dashboard. This will give various views, from regional summaries, through to the MOS score over time and any other parameters being monitored.
From these dashboard views, it is simple to see errors or quality degradations and therefore to start to address them. Views showing longer term trends will illustrate the improvements over weeks and months for direct comparison and auditing.

My conference platform already reports quality, why do I need another system?
There are two main points to make to this excellent question. Firstly, do you completely trust the voice platform provider to report totally honest results? Will they be calculating the internationally recognised MOS level, or something else more vague, like High, Medium and Low?  Secondly, since its highly unlikely they will generate test traffic, but rather be looking at user traffic, can you really trust comparisons, when there are other variables, such as the phone in use, the (wireless) headset in use, background noise and so on.
Tenedis offers an independent and controlled testing environment. By eliminating other sources of variation and interference, a true picture of the voice platform quality can be seen, one you can trust.
What integration effort is required?
Very little in most cases. The dashboard is cloud hosted and the virtual probes will typically call in via existing public numbers, just as normal users would. Most of the upfront effort is focused on understanding what scenarios to monitor and the frequency.
Can we trial the conference / IVR monitoring system?
Yes, a free trial is available, this would include one specific monitoring scenario shown in the dashboard. Many times, even during a limited scope trial, customers can observe a poor user experience and how it is changing over time. Simply contact us to ask for your Tenedis trial.
Summary
Tenedis's TaaS based conference and IVR monitoring solution allows users to proactively monitor conference audio quality, DMTF and IVR solutions.  As a cloud based service, it is remotely delivered, fast to deploy with minimal integration effort required compared to a full on prem system.  Contact us for further information and to find out about free trial opportunities.
Conference and IVR System Monitoring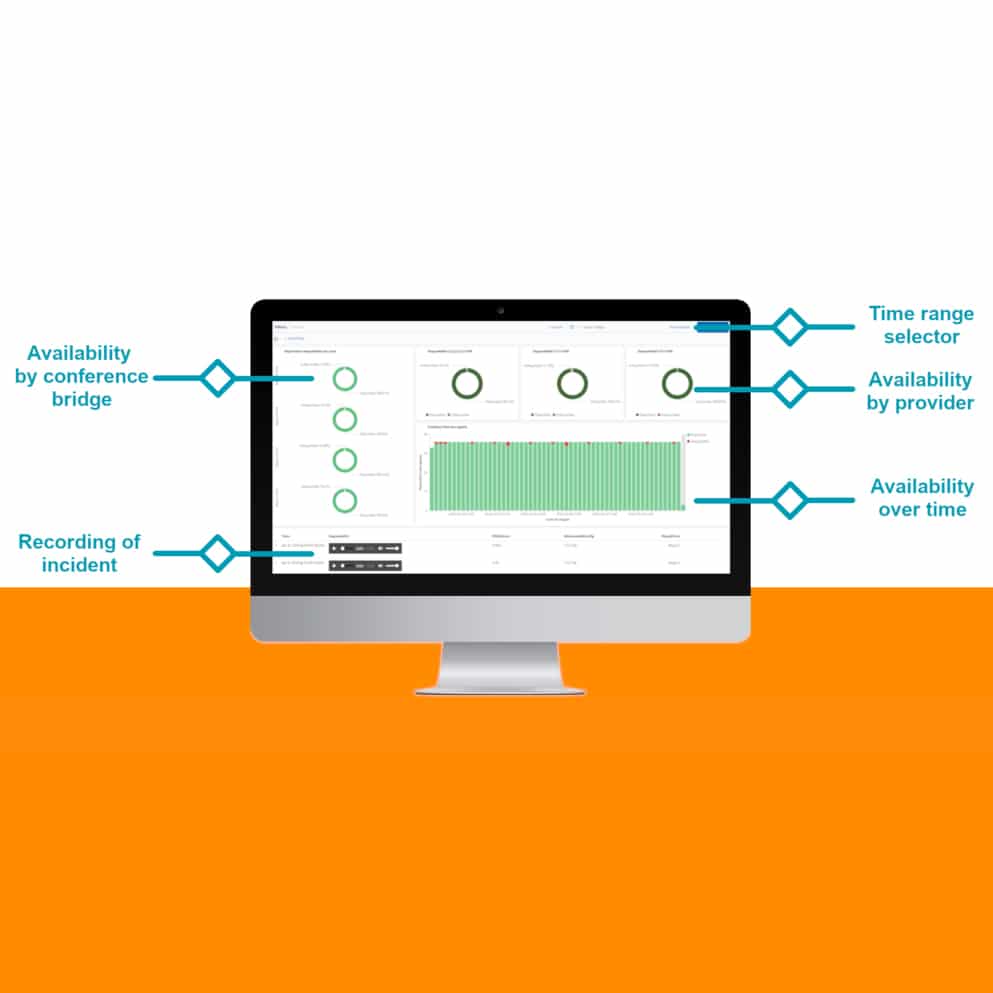 Enables network operators to dramatically improve network efficiency and quality of experience (QoE), without making changes to the network infrastructure
Key benefits
Cloud based, fast deployment, easy scaling
Low upfront costs
Rapid ROI
Improve the User Experience
See audio quality over time, by region
Confirm correct DTMF performance
Verify multiple voice types can operate an IVR.
Simple dashboard view
API available for results integration.