Unleash the Power of Sustainable Energy with the RW500 Wind Turbine
Designed for resilience and minimal maintenance, the RW100 Wind Turbine by IceWind is the ultimate solution for reliable and efficient energy in the most challenging environments. Whether you're looking to enhance your backup power, reduce operational costs, or invest in sustainable energy, the RW500 is engineered to meet your industrial needs
Unleash the Power of Sustainable Energy with the RW500 Wind Turbine
Designed for resilience and minimal maintenance, the RW100 Wind Turbine by IceWind is the ultimate solution for reliable and efficient energy in the most challenging environments. Whether you're looking to enhance your backup power, reduce operational costs, or invest in sustainable energy, the RW500 is engineered to meet your industrial needs
Robust micro vertical-axis wind turbines and hybrid energy solutions for cell site towers
The RW series vertical-axis wind turbines are built to be mounted adjacent to or directly on to commercial telecom towers, reducing operational costs, and increasing backup power time.
They are designed to deliver long lasting performance, with little or no maintenance for over 20 years regardless of weather conditions.
The turbines are able to withstand wind speeds up to 135 mph (Category 4 Hurricane wind speeds) and will consistently deliver power, even in the harshest conditions.
Energy independence
In areas where the electricity grid may be unreliable or unavailable, wind power can provide an independent energy source. This is crucial for maintaining the uptime of the cell tower, which, in turn, ensures uninterrupted service.
In remote areas where extending the traditional power grid may be prohibitively expensive, wind power can offer a viable solution to power sites. This can help extend mobile connectivity to underserved areas.
Energy storage options
When paired with energy storage systems such as batteries or power walls, wind power can store excess energy when wind is abundant and use it when the wind is not blowing, ensuring a consistent energy supply regardless of the prevailing weather conditions.
This wll also reduce the use of and dependence on alternarive backup systems such as on-site diesel generators, which in turn require additional maintenance and refueling.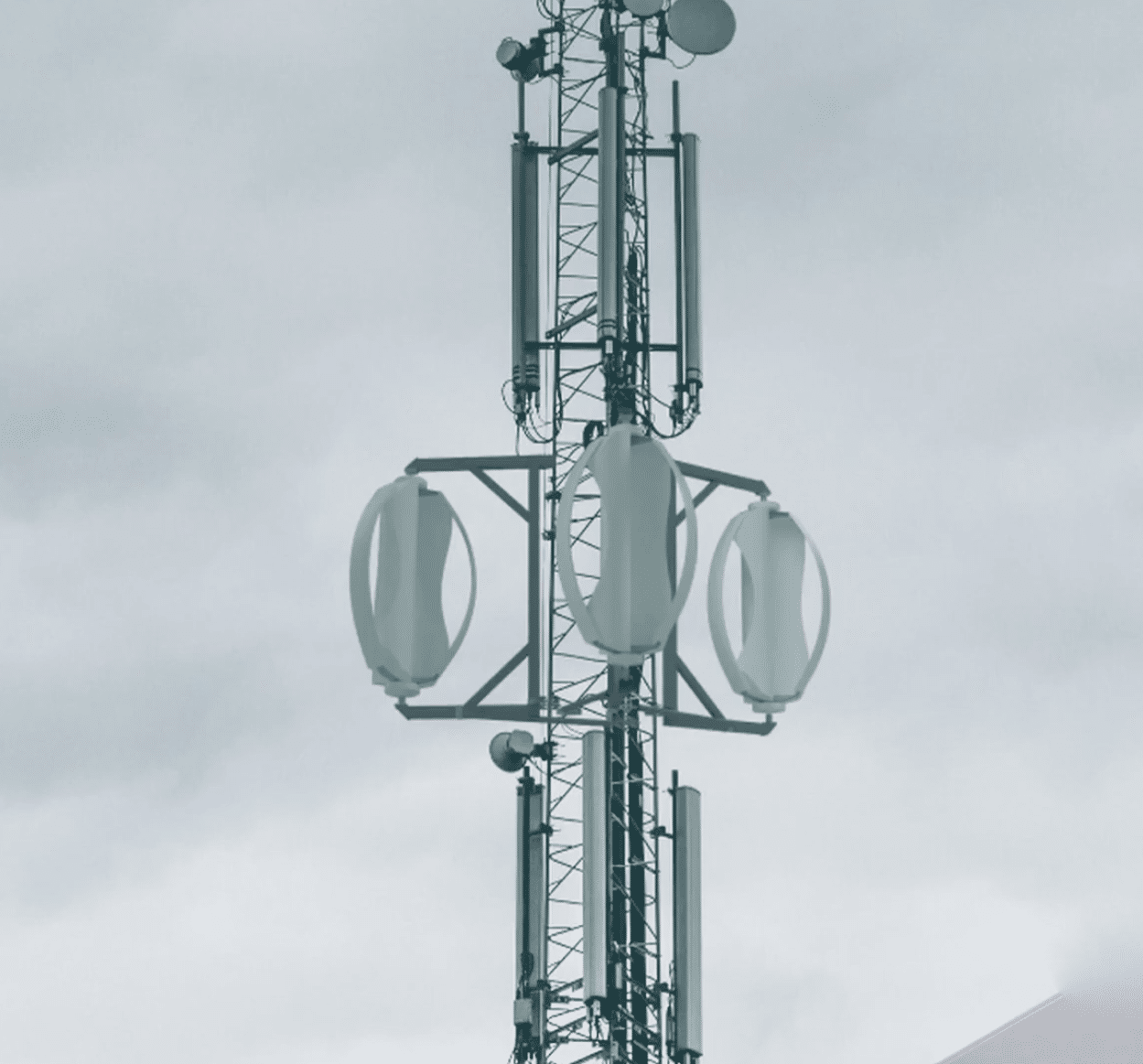 Multiple mount solutions
Multiple mounting options are available, with options for mounting turbines directly on to an existing tower, rooftops or the  ground using appropriate mounting frames.
For mounting directly onto towers the use of vibration damping mounting clamps ensures the prolonged lifetime of the turbine,



Turbine mounting datasheet