Who are Allegro Packets?
Delivering smart, affordable and high-performance appliances to help simplify and speed up network analysis and troubleshooting.
Founded in 2014, Allegro Packets is the creator of the Allegro Network Multimeter family of products.  Based in Leipzig, Allegro Packets products are proudly designed and manufactured in Germany, helping ensuring high quality, from drawing board to finished goods and ongoing support.   The Network Multimeter is focused on helping network administrators and operations staff quickly and efficiently locate issues with its user-friendly interface and depth of information.
The founding members and main design team of Allegro Packets come from a strong networking background and have years of experience in the development of packet-switched transmission protocols. Allegro saw that the market lacked a simple yet powerful monitoring tool that made it possible to display traffic on site and thus quickly and easily detect errors across corporate, industrial and service provider markets. Allegro Packet's solution closes this gap.
What new features does v3.0 of Allegro Packets Network Multimeter provide?
Allegro Packets announced the general release of v3.0 of its software on the 10th September 2020. Key new features include:
VoIP improvements. More detailed analysis and a new protocol RTCP is now supported with its own dedicated results and reporting options.

VoIP call quality is now listed by the improved MOS value calculation, supporting higher throughputs.
Clearer results with automatic duplicate packet removal.
New dedicated DNS results section, list the names, time and response times of all DNS request.
Under the hood, architectural performance improvements get the software ready for the next generation of CPUs.
Contact us for help to download and install v3.0 into your Network Multimeter and start benefiting from the new features today.
New product Alert: Allegro Packets 1300, 3300 and 5300
Purpose built for the Enterprise, core networks and data centres, the x300 family offers a new 1U form factor server, with up to 12 ports, from GE, 10G, 25G, 40G to 100G QSFP28.  Throughput capacity ranges from 20Gbps, 50Gbps and to 100Gbps for the 5300.

Each x300 comes with 64GB RAM as standard, expandable to 4TB for the most demanding applications. 10 HDD slots provide space for vast data storage.
How can I see multi-layer real time network analytics?
Allegro Packets continually engage with their customers and prospects to understand their challenges. System administrators and Network operations benefit from the Network Multimeter network debugging tools, since they enable highly granular analysis across all network layers.
Layer 2 to 7 visibility combined with real time and historical views, enable rapid troubleshooting AND historical analysis of previous issues.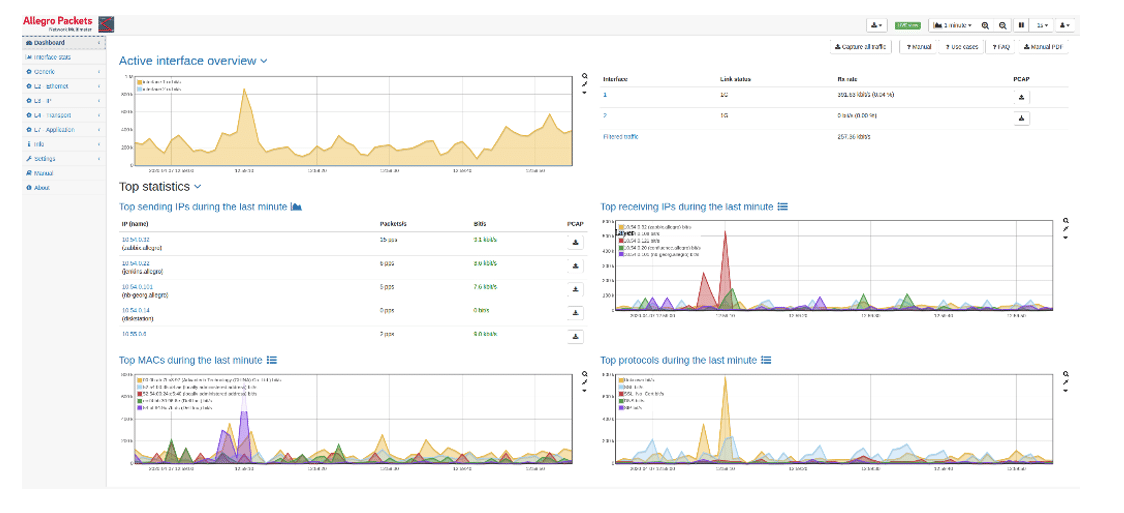 How can I expand my network analytics platform as my traffic grows?
Allegro Packets has a unique two stage memory system. Firstly, near instant access system memory is used to store real time information. This allows instant debugging and prevents issues related to privacy, since nothing is stored permanently. The x300 start with 64GB RAM, expandable to 4TBytes as your network traffic grows.
Secondly, additional disks, either as SSD, or HDD may be added to offer long term storage.  This long-term storage gives the exciting possibility to "go back in time" and build a network pcap, to present as evidence or to aid later troubleshooting.  The x300 has an industry leading 10 HDD slot capacity, simply add more disk capacity as required.
Allegro Packets product range to cover all situations
As well as the x300, Allegro offers a wide range of hardware to suit most deployments. From the small  200 unit and 500 units, convenient to keep in a bag and take to different sites, through to 100G connectivity rack mounted equipment such as the x500 series.  All Allegro Packets Multimeter products benefit from the same software, making it easy to mix unit types without operational issues.
Customer References
Allegro Packets is used across a wide range of customers, from Tier one service providers such as Swisscom, to small enterprises and industrial partners.