Protect your windfarm from hacker intrusions
Defending wind assets from cybersecurity threats is significantly more complex than a traditional IT network.
The lifecycle of a windfarm involves many parties, and cybersecurity practices are challenging to establish and maintain across the supply chain.
A compromised Ethernet network would give hackers and other malicious actors the ability to reach SCADA systems and compromise the control and command of wind turbines, potentially stopping or damaging wind plant.
The Netlinkz Virtual Security Network (VSN) secures onshore and offshore wind farm operations with a 256-bit encryption network overlay.
The VSN platform provides a secure, elastic end-to-end security overlay that secures your network data all the way to your operational sites. This keeps your turbine sensor data and operations channels secure, preventing hacking that would potentially disrupt generation.
Easy access management means you can add and remove IOT devices from the network and control access for staff as necessary.
Request a demo today to see how easy it is to secure your network.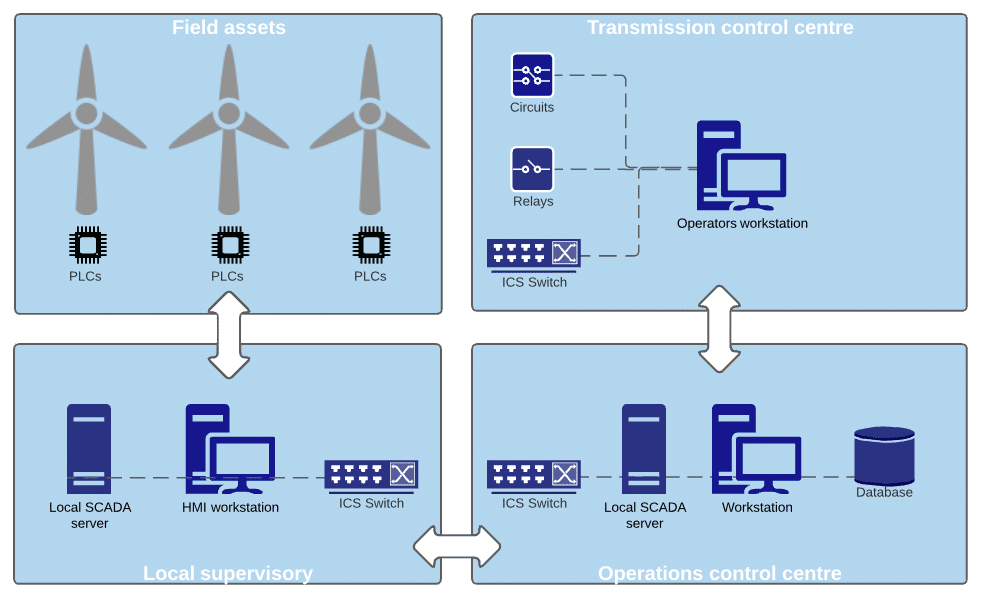 Wind plant communications networks have multiple control zones connected by a wide area network. If any of these are compromised the wind plant could be controlled and even damaged.
The VSN would create a secure overlay network across all zones, creating a secure environment to prevent instrusions.
Helping you
Find out how we can help protect your windfarm
Related
You need to improve windfarm cybersecurity
Related
Do you know the cost of windfarm hacking?
How we can help
Protect windfarm operations with a VSN overlay
Windfarm cybersecurity with Netlinkz VSN
Windfarm cybersecurity with Netlinkz VSN
Windfarm cybersecurity with Netlinkz VSN