10 Things The KF4A Does To Help Fibre Splicers
FTTH deployment presents a brand new challenge for optical deployments: turning up customer services at locations across the country within an expected service activation time.
Here are 10 things the KF4A All-In-One FTTH Splicer does to help fibre splicing technicians.
1 - Supports all splicing functions
The KF4A includes all the functions needed to perform a customer splice connection, reducing the need to carry tooling from a vehicle to a splice location and back. Supporting every function needed to connect the customer means only a single visit to the customer location is needed.
2 - Stripping the fibre
The KF4A FTTH splicer features an automatic stripper that removes the fibre coating and cladding, exposing the fibre core ready for splicing in just one second and without damaging the fibre core.
3 - Cleaving the fibre
The built-in single action cleaver makes a 90 degree cleave to the fibre end.
The rotating cleaver blade can cleave up to 75,000 fibres before requiring replacement. Sharp ends are captured within the attached sharps container.
4 - Fibre Cleaning
The built-in one-touch cleaning pump enables the technician to immediately clean the fibre end upon cleaving.
5 - Fibre Splicing
The splicer automatically aligns the fibres and splices the fibre ends. The electrodes can support up to 38,000 splices before requiring replacement.
6 - Splice testing
Following the completion of the splice the quality is tested through an automatic tension test, ensuring the splice is good before leaving the customer location.
7 - Splice protection
The splice is protected throughout the application of a heat-shrink splice protector. The built-in sleeving unit applies the splice protector within 30 seconds.
8 - Reduced on-site time
The all-in-one functionality and automation reduces the time it takes to perform the splice at the customer location. This increases the number of customers that can be activated per day.
9 - Reduces site re-visits
The automated functionality of the KF4A FTTH splicer delivers increased splicing quality, so splices can be made right on the first time. This reduces the number of customer reported failures once the service is activated, reducing the number of re-visits needed for remedial action.
10 - Increases field utilisation
The KF4A is a very low maintenance device. With up to 38,000 splices before requiring electrode replacement and up to 75,000 cleaves before the cleaver blades need replacing the KF4A rarely needs maintenance, increasing the utilisation of the tool and reducing the amount of downtime in the field.
KF4A All-In-One FTTH Splicer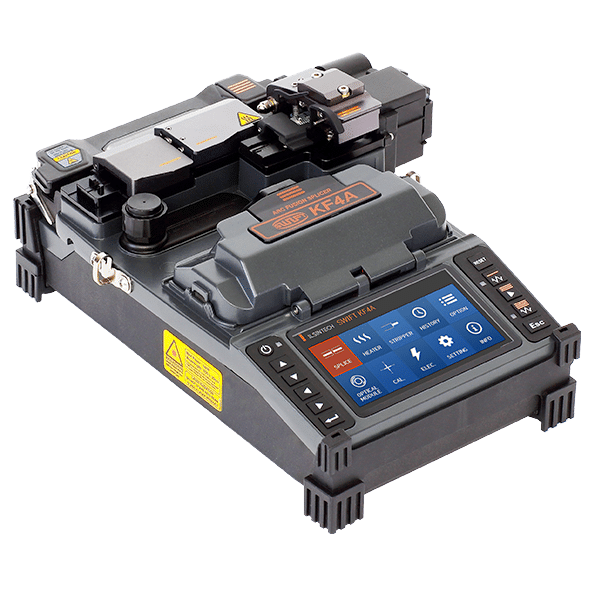 Reduce FTTH deployment time with the KF4A automated all-in-one splicer.
Request demo of FTTH Splicer